Chaos Group Phoenix FD for Maya – Rental Options
v3.14

Chaos Group Phoenix FD for Maya – Rental Options
Downloads
Download demos and trial versions, product documentation, free presets and more.
You May Download a Free Demo After Logging In!
All-In-One Fluid Dynamics for Maya Artists
Phoenix FD is an all-in-one solution for fluid dynamics. With Phoenix FD, artists can simulate fire, smoke, liquids, foam, ocean spray and more. Phoenix FD is used in multiple television series such as Game of Thrones and The Flash, and is specifically designed for fast-paced production. Phoenix FD integrates seamlessly into Maya and is optimized to render with V-Ray.
---
Highlights
Add explosive fire, smoke and liquid effects to imagery and animation with Phoenix FD 3.0 for Maya. New solvers give more detailed effects, and quick presets make simulations faster and easier to set up. Phoenix FD integrates seamlessly into Maya and is optimized to render with V-Ray.
Key Differentiators
Powerful: Phoenix FD is an all-in one solution for fluid dynamics. Simulates fire, smoke, liquids, ocean waves, splashes, spray, mist and more.
Artist-friendly: Built for 3D artists who want to create dynamic FX using quick presets, fast setup and intuitive controls.
Interactive: Capable of preview and interactive rendering in the viewport. Simulations can be adjusted on the fly.
Creative control: Artists can create all types of physically-based fluid effects with fast, flexible controls for rendering, retiming and refining simulations.
Smart integration: Integrated seamlessly into Maya and optimized to render with V-Ray.
Compatibility: Compatible with top industry tools such as Alembic and OpenVDB.
Key Features
Liquids, splashes & foam
Create realistic liquid simulations with splashes and foam directly in Maya.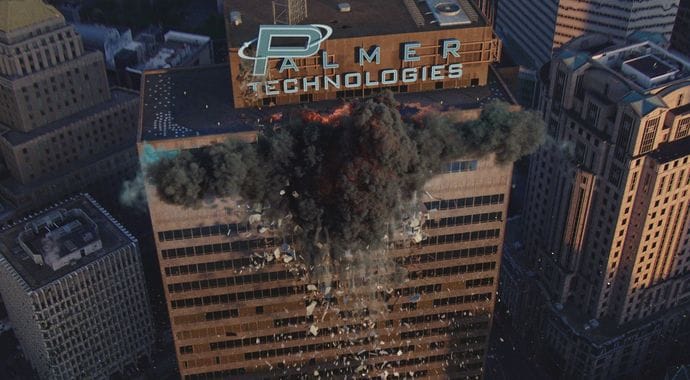 Smoke, fire & explosions
Create all types of fire and smoke effects with Phoenix FD's powerful adaptive dynamics engine.
Other Key Features
Interactive simulations: Fine-tune simulations interactively in the viewport with Phoenix FD's GPU-accelerated preview.
Refine simulations: Increase simulation resolution and add detail without changing overall shape or behavior.
Simulation retiming: Speed up or slow down simulation playback. Perfect for slow motion effects.
Cascade simulations: Create a series of simulations that trigger and interact with each other.
Emission sources: Use a wide range of customizable emission sources – animated meshes, texture maps and particles – to drive complex simulations.
Vorticity: Simulate realistic and complex vorticity effects with full control over large-scale vortex strength and ultra-fine details.
Turbulence: Perfect for generating small wisps of smoke and steam.
Particles: Render particles as bubbles, drops, points or fog.
Ocean simulations: Easily create ocean surfaces that never repeat using procedural ocean displacement. Preview and render the ocean surface without simulating cache files.
Wave force: Transition from a procedural ocean surface to detailed wave simulations.
Optimized rendering: Render photorealistic fluids and volumetric effects using Phoenix FD's optimized shader.
Simulation licenses: Use Phoenix FD simulation licenses to submit jobs over the network to Deadline and Backburner.
What's New in Version 3.0
| | | |
| --- | --- | --- |
| FLIP solver: Fast and more realistic liquid solver. | Quick presets: New toolbar with presets for fire, smoke and liquid simulations. | Fast volume rendering: Optimized volume rendering with accurate lighting and global illumination. |
| New fire & smoke solver: Create realistic smoke and fire with super fine details. | Force controls: Art direct and control simulations with forces like wind, mesh attraction and more. | Path follow: Create simulations that follow a path along a spline. |
Description
FLIP Solver
Quick Presets
Fast Volume Rendering
Fire and Smoke Solver
Force Controls
Path Follow
---
Updates
What's new in v3.11
RGB channel simulation for Foam, Splash and Mist particles - now secondary particles can be born from Sources mapped with colored textures and can change color during simulation using the Mapper
Particle Texture color based on Particle Channels - the Particle Texture can be plugged into the Particle Shader and can shade particles based on their Age, Speed, Size, Position, etc.
2x faster particle rendering in Bubble, Cellular and Splash modes using the Phoenix FD Light Cache - the Particle Shader has been greatly optimized in this version
Faster scene interaction with complex or moving geometries - the simulation, cache save and load, and scene interaction now utilizes all CPU cores and allows the fluid to interact quickly with large geometry models
Quicker Displacement Fade Volume and Body Force with complex or moving geometries - these algorithms are much faster now and allow for quick simulation of fluid attraction and morphing into geometry shapes, as well as quick rendering of high poly oceans
Loading and rendering of sparse OpenVDB caches over 2.1 billion voxels - huge sparse grids can now be loaded and rendered quickly and using much less memory than before
Deadline 10 support in the Phoenix FD Submit Simulation menu
An important change was that we dropped support for the oldest version of the AUR cache format - caches simulated with Phoenix builds before 13 Mar 2015 would not open anymore with Phoenix 3.11.
What's new in v3.1
New features:
FLIP Solver: Variable viscosity for the FLIP solver. Added to the Sources, Grid Texture and Mapper
FLIP Solver: Default RGB color for Initial Fill Up of the simulation and Initial Liquid Fill of interacting geometries
Particle Shader: Use texture RGB color to shade particles in the Particles Shader
Ocean Texture: Implemented looping and direct frame index option for the Ocean Texture
Improvements:
FLIP Solver: WetMap particles are now able to stick to deforming and fast moving geometries
FLIP Solver: Improved the thread loading of the FLIP solver
FLIP Solver: Added a Fill Up for Ocean option which can be disabled so Initial Fill Up would not produce liquid voxels and mesh under the fillup level
Volumetric Shader: Render negative Fire from caches imported from FumeFX
Animation: Renamed Cache Start to Cache Origin and Play Start to Timeline Origin
V-Ray RT and IPR: Ignore the Optimize Big Volumetric Grids option when the current render is V-Ray RT
Ocean Mesher: Allow simultaneous use of the Vertical Fade Level and Fade Above Velocity displacement options
Ocean Mesher: Added a hidden cache stretching parameter used to fill air pockets in imported Houdini VDB caches used for ocean meshing - "cachestretchzone"
Ocean Texture: Optimized the Ocean Texture
Path Follow: Reverse the direction or attraction of FollowPath using a negative Follow Speed or negative Pull Speed
Grid Texture: Added the Single Clamped option to the Tiling modes of the Phoenix Texture in Maya
VRScenes: Resolve environment variables in Phoenix paths during rendering and not during export
Cache I/O: Multithreaded writing and loading of AUR caches. After this change, old versions of Phoenix won't be able to open new caches. New Phoenix versions will open old caches without problems.
Cache I/O: Merged the OpenVDB DLL into the Phoenix plugin
User Interface: Added options for using the Timeline beginning/end as the simulation start/stop frame
Presets: Offer presets when loading VDB or F3D files in Phoenix for Maya
Presets: Add a menu for loading VDB or F3D compatibility presets to the Rendering rollout
Maya Integration: Group the Browse, Delete Cache, Reset to Default and Help cache path functions in a dropdown menu for each path, like in 3ds Max
Maya Integration: Show the resolved cache paths for the current frame for Input, Output, Resim and Preview in Maya
Maya Integration: Connect Phoenix cache paths to the Maya File Path Editor
Maya Integration: If the connection to the license server is lost, automatically try to reconnect
Maya Integration: Added GUI buttons for all controls which connect the Simulator to geometries, lights or forces
SDK: Allow providing custom motion blur start and end frame times through the Phoenix SDK
Removed features:
Phoenix FD: Dropped support for Maya 2014
Bug fixes:
FLIP Solver: Random crash with liquid simulation when particles exit the grid and there is an obstacle on the border
FLIP Solver: Random crash while simulating liquid in contact with moving solid source geometries
FLIP Solver: Hang when not all existing FLIP particle systems are affected by a Phoenix force
FLIP Solver: Solid bodies with Clear Inside kill liquid particles on contact
FLIP Solver: Can't use another simulator as an obstacle to FLIP liquid
FLIP Solver: Restoring liquid simulation with moving simulator creates incorrect velocities at the borders
FLIP Solver: Load & Start of a non-backup liquid cache does not load all the liquid particles
FLIP Solver: In Maya, moving the simulator leaves the wetmaps of obstacles at their old positions
FLIP Solver: Animated object entering the simulator does not emit liquid from its entire surface
FLIP Solver: Liquid cannot wet the inside of a Confine Geometry
Grid Solver: Overlapping non-solid Surface Force sources sum their temperatures to very high values
Grid Solver: Crash with fire/smoke simulations and Confine Geometry if Object Voxels is different than Circumscribed
Simulation General: Crash during simulation when Phoenix FD runs out of memory
Simulation General: Pressing Start quickly and repeatedly could crash the simulation with enabled Force Preview
Simulation General: Hang when using Load for a Resimulation
Simulation General: Can't Start a simulation from the toolbar after a failed Restore
Scene Interaction: Maya hangs after sequential simulation of two intersecting simulators
V-Ray RT and IPR: Maya crashes when trying to render a displaced mesh with V-Ray IPR
V-Ray RT and IPR: Crash when the Ocean Texture is used as liquid sim displacement when rendering with V-Ray RT
Volumetric Shader: No scene shadows if Visible to Camera is disabled in Volumetric Geometry mode
Volumetric Shader: Fire/Smoke in Volumetric Geometry mode does not render at all when Min Visible Opacity is set to 0.0
Particle Shader: Crash when rendering a Particle Shader with Liquid Geometry set to a Simulator used by a Particle Texture with motion blur
Animation: Precise Tracing and Interpolation methods don't work smoothly for particles if the original simulation has SPF above 1
Render Curves: The color of a newly added color gradient point is ignored if the point is between two others in Maya
GPU Preview: Enabling GPU preview for the first time does not show until updating the view in Maya
GPU Preview: The GPU Preview in Maya does not properly use the light positions
Body Force: Crash when a body used by Body Force is moved far away from the simulator
Wave Force: Swapped Wave Force Y/Z axes in Maya
Wave Force: Wave Force icon helper position in the viewport affects the simulation
Mapper: Mapper's Time-Constant is not working correctly with a mask
Ocean Texture: Phoenix Ocean Texture can't be animated in Maya 2018 with Parallel Evaluation
Ocean Texture: Crash when rendering Ocean simulation using V-Ray Standalone with -numThreads command
Ocean Texture: Artifacts when rendering an OceanTex with V-Ray Displacement in Maya
Ocean Mesher: Handled out-of-memory when rendering high-poly Phoenix ocean on large resolutions
nParticles: Crash when emitting from nParticles with particleSamplerInfo plugged in Source's RGB channel
nParticles: Hang when nParticles with radius PP die while used by a Source in 'Sphere, use size' mode
Maya Integration: Resim Base Cache Files path resets to a wrong value when deleting the text
SDK: All Phoenix nodes except for the Maya Simulator returned NULL for getPhoenixSDKInterface()
What's new in v3.05
This patch adds support for Maya 2018.
And we've added time-saving new features, including:
Faster overall simulation - We've made Phoenix FD more efficient, speeding up some scenes by up to 30%
Force Preview - See how Phoenix or standard 3ds Max and Maya forces will influence the simulation — without multiple iterations
Improved Frame Blending - Smoothly retime your fire and smoke more with our new precise tracing method
System Requirements
Please make sure that your system fulfills these requirements before installing Phoenix.
Windows
Minimum requirements:
Windows® 7
Only IPv4 is supported, IPv6 is currently not supported
8 GB RAM
USB 1.0 required for hardware lock
700 MB Hard Disk Space
1st Gen Intel® Core™ or compatible processor with SSE4.2 support (x64)
Recommended requirements:
Windows® 8
Only IPv4 is supported, IPv6 is currently not supported
32 GB RAM
Larger cache memory, higher memory bandwidth and higher clock speed is better. NUMA does not always give good scalability.
USB 2.0 required for hardware lock
GPU List
700 MB Hard Disk Space
1st Gen Intel® Core™ or compatible processor with SSE4.2 support (x64)
Linux
Minimum requirements:
Red Hat® Enterprise Linux® 6 WS, or CentOS 6 (64bit)
Only IPv4 is supported, IPv6 is currently not supported
8 GB RAM
USB 1.0 required for hardware lock
400 MB Hard Disk Space
1st Gen Intel® Core™ or compatible processor with SSE4.2 support (x64)
Recommended requirements:
Red Hat® Enterprise Linux® 6 WS, or CentOS 6 (64bit)
Only IPv4 is supported, IPv6 is currently not supported
32 GB RAM
Larger cache memory, higher memory bandwidth and higher clock speed is better. NUMA does not always give good scalability.
USB 2.0 required for hardware lock
GPU List
400 MB Hard Disk Space
1st Gen Intel® Core™ or compatible processor with SSE4.2 support (x64)
Hardware Advice for Faster Simulating
Here's some tips to help make sure your Phoenix sims calculate as fast as possible.
Bus speed - Phoenix transfers huge amounts of data between memory and the CPU. The entire simulation grid gets processed tens to hundred times per simulation step, so the bus speed is the bottleneck in most simulations.
CPU speed - Processor speed is more important than core count. Also, NUMA and multiprocessor architectures do not perform well with Phoenix. Simulating on one NUMA node is often faster than waiting for multiple nodes to synchronize.
Fast Storage - Both large and small simulations take significant time just to write the cache files from the simulation and to read them back for the preview, so good storage speed can help decrease simulation times up to 30%. Turning off the preview for all grid and particle channels during large simulations could also help speed up the simulation.
GPU - GPUs are currently only used for the GPU preview of fire/smoke simulations.
Change Log
3.14.00 | Official release
Date – 15 May 2019 | Download – Build 3.14.00
New Features
Phoenix FD
Improvements
Animation
The Grid viscosity channel is now reconstructed from FLIP particles when using Time Bend Controls, preventing render flickering
Preview
Render layer support for the Simulator's viewport preview visibility
Speed up preview of AUR cache files
Show the mesh preview together with the voxel / velocity / force preview when both are enabled
Grid Texture
Helpers for rescaling the output values of the Grid Texture to a certain range
Option specifying whether the alpha of the Grid Texture would be solid or based on the intensity
Toolbar
Prompt which Simulator to run when pressing the Maya shelf Start button in a scene with multiple simulators
Bug Fixes
Scene Body Interaction
Motion Velocity differed between Max and Maya with the exact same setup
When a moving geometry stopped, it kept contributing velocity in the Fire/Smoke simulator or broke liquid emission in the Liquid Simulator, since Phoenix FD 3.05
Grid Solver
Crash with Adaptive Grid when 'No Smaller than Initial Grid' was off, the Grid was completely outside the initial grid and shrunk to 0, since Phoenix FD 3.00.02
FLIP Solver
Liquid Sources kept emitting Foam/Splash particles in Brush Mode even if the Brush Effect was 0
Moving ocean containers still produced disturbances at their fronts in some cases
Wetmap particles were not born on some surfaces of objects with non-uniform scale
Rendering
Crash with any Phoenix simulator and V-Ray 3 Standalone during render exit on Linux
Rendering referenced scene in Maya Batch didn't read cache sequences
Volumetric Illumination
Phoenix lights from one Simulator did not illuminate some parts of other Simulators depending on the camera angle
Volumetric Shader
Replacing the fire opacity with a texture using the 'Fire Opacity From Texture' option affected Fully Visible and Use Smoke Opacity modes as well
GPU Volumetrics
GPU Volumetric effects go missing when switching between Bucket and Progressive Sampler type in Volumetric Geometry mode
nParticles
Crash when rendering nParticles without exported V-Ray Age attribute using the The Multiply Size by Particle Age option in the Particle Shader
Preview
If a channel selected for Voxel Preview was empty, the last selected channel was displayed instead, since Phoenix 3.13
Cache I/O
Wrong particle positions when looping adaptive grid with loop overlap
---
Phoenix FX 3.13.00 | Official Release
With Phoenix FD 3.13 we have focused on adding many frequently requested features and improving usability.
Faster liquid simulations
FLIP simulations are 30% faster on average and up to 2x faster on some scenes.
Fire Opacity Texture
Now you can modify the Fire Opacity using textures in order to achieve more interesting shading results.
Support for Loading OpenVDB Point Data
Using Maya 2018 or newer, now you can save particles simulated by Phoenix FD to VDB cache files, and also import particles from other software via VDB caches
Following is the complete changelog for this version of Phoenix FD:
New Features
Volumetric Shader
Modulate or replace the Fire Opacity with a Texture in 'Use Own Opacity' mode
Cache I/O
Saving of Phoenix simulated particles to OpenVDB caches from Maya 2018 and newer
Loading of OpenVDB point data for rendering using the Particle Shader for Maya 2018 and newer
Export and preview for the 'Special' grid channel, containing vorticity, pressure or various debug channels
Improvements
Simulation General
Do not use a V-Ray license for texture sampling during simulation of Phoenix with V-Ray Next
FLIP Solver
Resimulation of the RGB channel for FLIP particles
Export of Particle Velocity for WetMap over moving geometries
Use less memory for simulation of WetMap when 'Sticky Liquid' is disabled
Animation
Grid RGB channel is now reconstructed from FLIP particles when using Time Bend Controls, preventing render flickering
Volumetric Shader
Optimized volumetric rendering when Smoke Opacity is modulated by a texture
Particle Shader
Motion Blur Interval Center support for the Particle Shader
Name new Particle Shaders "ParticleShader###" instead of "PHXFoam###"
Ocean Mesher
Support for rendering Ocean Mesh from multiple cameras via Batch Render
Support for rendering Ocean Mesh with Stereoscopic camera
Preview
Show the force preview in the box of the loaded cache, if any, and in the simulation box otherwise
Cache I/O
Updated OpenVDB from version 3 to version 5
ABC I/O
Control for custom vertex velocity color set name for Maya Mesh mode. Can be set to 'velocity' so exported ABC files can be rendered with motion blur when loaded by VRayProxy in 3ds Max or Maya
User Interface
Added the running Simulator's node name to the simulation viewport status
Renamed the Mapper's 'Time Constant' to 'Buildup Time'
Add the Light Cut-off option to the Fire Lights' rollout
Bug Fixes
Grid Solver
Intersecting a moving obstacle with a Solid emitter left non-emitting voxels after the obstacle
Clear Inside did not clear the volume of Non-Solid emitters in Surface Force mode in the Fire/Smoke Simulator
Empty adaptive grid expanded by itself when Extra Margin was used and Expand and Don't Shrink was On
FLIP Solver
Crash with 'Simulate Air Effects' and forces affecting the 'Air' system of a Liquid Simulator, since Phoenix FD 3.04
WetMap was not equally generated over flat surfaces and might not appear on horizontal or vertical surfaces
Subsiding liquid at the front of a long moving ocean container with Motion Inertia
Fixed various issues with moving ocean containers producing disturbances and waves at their borders
Simulation General
Deleting a Simulator while another one was running stopped the running Simulator
Simulation restore did not go back to the last backup frame and could cause a crash, since Phoenix FD 3.12
Scene Body Interaction
Voxelization of a large number of small bodies used excessive amounts of memory, since Phoenix FD 3.11
Voxelization of hundreds of geometries with very small sizes was slower on many threads compared to simulating on 1 thread
Sources
Geometry with Initial Liquid Fill which was also selected in a Source in Volume Brush or Volume Inject mode created a double amount of liquid particles and this caused explosions
Particles with small size used as emitters for Liquid had random Discharge strength
Discharge Modifier Offset and Scale were not shown when the Source value was Position, Normal or Random
Modulating source's emission with a texture map caused a crash if the geometry had no UVs
Sources in Surface Force mode in Maya did not have the same strength as in 3ds Max if the Maya units were not centimeters
Crash if Vertex Color was connected to a Source's Discharge, Smoke, Temperature, Fuel or Particles
Animation
Flickering FLIP liquid mesh near emitters when Input Play Speed was below 1
Cache I/O
Opening a saved scene with fresh Maya removed the leading slashes from a UNC cache Input path
GPU Volumetrics
When two or more Simulators had any overlapping walls, volumetrics weren't rendered correctly with V-Ray GPU
Crash with instanced Simulators in Volumetric Render Mode during sequence render with V-Ray GPU
Crash when rendering a scene containing any Particle Shaders with V-Ray GPU
Crash when rendering a scene containing a VolumeGrid and a Simulator with V-Ray GPU
Shading volumes using only textures still required a loaded cache file with V-Ray GPU
Volumes loaded from OpenVDB caches that contain internal rotation rendered clipped with V-Ray GPU
Volumetric Shader
Volumetric Light Cache still consumed additional memory even when it should have been disabled in Progressive V-Ray rendering
Memory leak when rendering with GI and any V-Ray render elements
Particle Shader
Slow down of Particle Shader Bubble/Splash/Cellular rendering with linked Liquid Simulator and 'Use Light Cache', introduced in Phoenix FD 3.04
Render Elements
Light Select Render Element didn't work unless the Phoenix Simulator's Light Cache was disabled
Mesher
Crash when attempting to start IPR in Mesh, Ocean or Cap Mesh mode with V-Ray nightly build
Ocean Mesher
Ocean mesh used excessive amounts of memory when rendered with the spherical panorama camera
Missing mesh polygons on the container border when rendering in Ocean Mesh mode
Flipped mesh polygons on the container border when rendering in Ocean Mesh mode with Mesh Smoothness above 0
Grid Texture
Crash if creating a circular dependency between a Grid Texture and a Simulator's displacement, when 'Skip the Displacement' was off
Crash during fire/smoke simulation if using a Grid Texture reading the Temperature of the same Simulator in a Mapper affecting Temperature with 'Initializer' Off
Particle Texture
Crash when rendering nParticles with a Particle Shader with a Particle Texture attached as Color Map
nParticles
Crash when rendering nParticles with the Particle Shader when there was no Simulator was the scene
Wave Force
Boiling effect on the open grid borders when using Wave Force with Fillup for Ocean and there was geometry over the bottom
Preview
Voxel preview of temperature around 200 Kelvins with As Fire enabled drew bright red and pink voxels
Preview Auto reduction did not work for the Force preview
Slow timeline scrubbing even with all voxel preview channels disabled
Cache I/O
Min-max channel range of AUR caches randomly displayed very large numbers
Fields
Rare random crashes during simulation when interacting with Maya fields
Maya Integration
'Add Selected Lights to GPU Preview' and 'Add Selected Forces or Fields' buttons worked only when the Simulator shape was selected
Manually typing in a frame number over a #### sequence format in Maya got automatically replaced by #### again
Loading a render preset or using 'Reset to Defaults' in the Fire, Smoke Color and Smoke Opacity rollouts did not remove the textures
The Units override in Maya was not correct when set to other modes than 'from Maya'
Sequencing Simulators that have been Sequenced in another order before could hang Maya
Could not edit parameters of the Simulator through the Channel Box if the Simulator had a loaded cache file
Could not edit parameters of Maya Field nodes through the Channel Box if they were picked into the Simulator's Force Preview
User Interface
Expanded Render diagrams did not save their positions and sizes
Deselecting or deleting a Simulator did not close an expanded diagram
Simulator Sequence list did not scale when resizing the Sequencing dialogues
Y/Z were swapped in the Total Cells info box under the Grid roll-out
Changing the Global Preferences Default Cache Path was not updated in the Simulator interface until the scene was saved
v3.12
With Phoenix FD 3.12 we are adding support for V-Ray Next for Maya introducing rendering on V-Ray GPU, and also have worked on adding some frequently requested features, improving usability and integration in Maya.
V-Ray Next Support and GPU Volumetric Rendering
Phoenix FD 3.12 is the first Phoenix version to support the official V-Ray Next for Maya. With that also comes support for rendering fire and smoke using V-Ray Next GPU and GPU IPR. Rendering Phoenix meshes were possible on the GPU in previous versions as well and are now 20% faster on average for both CPU and GPU. With V-Ray Next, the V-Ray Distance Texture is also optimized and works several times faster than with V-Ray 3.x, so Phoenix FD setups using it for mapping viscosity or RGB will benefit greatly.
Ocean Mesh with Physical Camera and all V-Ray camera types
The ocean mesh in Phoenix FD is generated in camera space, so it needs to be aware of all the camera options and all camera types. With Phoenix FD 3.12, Ocean Mesh mode now supports all parameters of the V-Ray Physical Camera.
We've also added support for all V-Ray camera types that are available under the V-Ray Render Settings - Spherical, Cylindrical, Box, Fisheye, Warped spherical, Ortho, 360 Virtual Reality Spherical Panorama and Cube 6x1 cameras.
MASH and Particle Instancer scattering of Simulators
Phoenix FD Simulators can now be instanced across the scene using both MASH and Maya's native Particle Instancer and the Viewport Preview can display the instanced Simulators. Such instances need to be rendered in Volumetric Geometry mode.
Following is the complete changelog for this version of Phoenix FD:
New Features
Phoenix FD
Support for V-Ray Next for Maya
GPU Volumetrics
Rendering of Phoenix Simulators with V-Ray Next GPU. Support for render elements and displacement is yet to be added
Ocean Mesher
Support for all parameters of the V-Ray Physical Camera types when creating an Ocean Mesh
Support for all V-Ray camera types when creating an Ocean Mesh - Spherical, Cylindrical, Box, Fish eye, Warped spherical, Ortho, Spherical panorama, Cube 6x1
Maya Integration
Instancing Phoenix Simulators using MASH and Particle Instancer
Improvements
FLIP Solver
WetMap now has different sticky effect against different liquid viscosities
Volumetric Shader
Exposed the hidden grid-based motion blur algorithm from Phoenix FD 3.00.01 for use via the 'mbgrid' script parameter
Sources
Discharge Modifiers by Particle Age and by Particle Size
Cache I/O
Support for the new transformation model of OpenVDB caches from FumeFX 5
New default $(work_path) macro for simulation cache Output expands to a "$(scene)_Phoenix_frames" directory
Tools
Cache Converter now requires source and destination files and is verbose by default
Installation
Install the Chaos License Server automatically after Phoenix installation if Local License is selected and the License Server was not installed
User Interface
Particle Shaders created by enabling Foam or Splash, or by Quick Setup presets, are now named after the simulator with 'Foam/Splash/Mist Shader' appended
Renamed the Foam and Splash 'Outside Life' option to 'Max Outside Age'
Renamed 'Sticky Effect' and 'Sticky' to 'Sticky Liquid' and 'Sticky Foam' respectively
Renamed 'Boundary conditions' to 'Container Walls'
Renamed Particle Group node's 'Create Particle System' to 'Create nParticles From This System'
Bug Fixes
FLIP Solver
Liquid particles got deleted on contact with deforming geometries
Liquid sources emitted in pulses when adaptive grid resizes, since Phoenix FD 3.11
Could not emit liquid from particle systems, since Phoenix FD 3.11
Surface Tension Droplet Breakup caused liquid drops in zero gravity to take diamond shapes
Confine Geometries used by Liquid Simulators were not internally set to Solid as Fire/Smoke Simulators do
Solid geometry without Clear Inside did not create liquid voxels under the Fillup for Ocean level
The liquid was created in voxels covered by Confine Geometry when Fillup for Ocean was used
A significant difference in the simulation between Sticky Liquid set to 0.001 and 0.002
Grid Solver
Crash when Resimulating with Adaptive Grid with Preallocation and the result grid was over 2.1 billion voxels
Particle Shader
The Size Multiplier of a Particle Shader animated by Particle Age did not work correctly for particles born on negative frames
Crash with Particle Shader in Geometry Mode and geometry with VRayMtl with V-Ray Edges Map rounded edges bump since Phoenix FD 3.10
Isosurface Rendering
Render Cutter in Isosurface mode produced wrong normals on cut surfaces
Render Elements
Buckets in VRayLightSelect render element when rendering the Simulator in Volumetric Geometry mode with Phoenix Light Cache enabled
The Simulator's Shadow, Raw Shadow, GI, and Raw GI render elements didn't render correctly in Volumetric Geometry mode with Phoenix Light Cache enabled
Random crash when rendering a Simulator in Volumetric Geometry mode with V-Ray Velocity Render element
Ocean Mesher
The Simulator surface appeared rougher than the Ocean extension in the distance at a low angle with low Ocean Subdivs and low Horizon Roughness
Artifacts on the grid border when rendering in Ocean Mesh mode with Mesh Smoothing and Use Liquid Particles
Black artifacts near the horizon in Ocean Mode with Horizon Roughness and the camera was far from the Simulator origin
Noisy Phoenix Mesh displacement using an Ocean Texture when looking at tall waves from the side since Phoenix FD 3.03
Missing mesh polygons on the container border when rendering in Ocean Mesh mode with Mesh Smoothness above 0
Using Mesh Smoothing in Ocean Mesh or Cap Mesh render mode shrunk the mesh
Ocean Texture
Artifacts when rendering Ocean with high Ocean Subdivs and high Ocean Texture Level of Detail
VRScenes
VRScenes exported under Windows could not load caches under Linux
Grid Texture
Crash if using a Grid Texture sampling a 'Rendering ...' channel that uses the same Grid Texture as Based On or Modulate texture
Particle Texture
Error when moving a marker in the Color Remap of the Particle Texture in the Attribute Editor
Preview
The range for velocity preview was wrong then there was no velocity channel and auto-range was enabled
Changing the Displacement Amount did not update the viewport Mesh Preview
GPU Preview
Light positions were not correct when saving images from the GPU preview
Saving images from the GPU Preview did not respect the Use Timeline Start/Stop Frame options
Cache I/O
Caches containing digits after the # format could not be loaded
Caches containing a minus/dash sign before the # format could not be loaded
Maya Integration
The Simulator cache paths were always saved with absolute paths to scene files even when a Maya Project was set
Simulation progress bars did not work correctly
Edit Script button threw an error even when the provided Script File path was correct
Tools
Cache Converter required a missing aurloader.dll