Update: Greyscalegorilla Plus Spring 2021 Release
Greyscalegorilla added some great new features to Greyscalegorilla Plus today in the Spring 2021 update, NEW and ONLY available in Plus. In summary, a list of new items:
Material Collection: Car Paints
HDRI Pack: Area Light Maps Volume 2
Surface Imperfection Pack: Smudges
Training Course: Guide to Automotive Rendering with Octane
Plus, a new search feature in the Plus Library!
Car Paints
Car Paints is the latest beautiful material collection to join the Plus Library. Handcrafted for Arnold, Octane, and Redshift, you can drag-and-drop these materials for a realistic coated sheen on any object.
Imagine you're walking around a car under the lights of the showroom. The sparkly flakes in these materials mimic that of real car paint and give the illusion of color shift as you rotate your object under the light. You'll love these procedural flakes.
3D Artist and long-time Greyscalegorilla instructor, Nik V, used this collection and said, "Love the procedural flakes. I can just slap it on the car and not have to worry about UV mapping and scaling." So easy. So beautiful.
NEW: Area Light Maps: Part II
Introducing the highly awaited update to our best-selling HDRI Collection, Area Light Maps.
Area Light Maps: Volume 2 includes 40 new types of lights. Combined with the collection from Volume 1, you now have over 60 lights for any type of project!
Get futuristic reflections with the quasar banks → think Tron. Use one of the many gradient light options to get a super soft reflection → perfect for product lighting. Get 8-lights-in-one with our arrays → imagine a car under warehouse lights. Sparkle lights give off a luminous vibe → perfect for Christmas light reflections or a starry night sky.
Now, with both collections of Area Light Maps, you've got an arsenal of lighting in your back pocket. Make your renders shine!
Smudges make it Real.
Do you know what's really stunning? Renders that make you do a double-take and say…wait, is that real? Our newest Surface Imperfection pack, Smudges, will do just that. Another set of 50 seamless, high-resolution textures, for use with any renderer.
We all know real life isn't clean. Real-life is wiping smudges off your phone screen. Real-life is fingerprints on the window. To put it simply, Real-life is imperfect. With Smudges you can render real-life…and provoke the deep desire to polish any surface you apply them to! (Microfiber cloths not included 😉)
NEW TRAINING: Automotive Rendering with Nik V
Lastly, you're getting brand new training!
Join Nik V in this extensive product training, focused on one of the holy grails of the 3D rendering world: Cars. Download the model and follow along as he uses our Car Paints, along with Area Light Maps Volume 1, to light a car, both in a studio and outdoors. He'll guide you through touchup and compositing techniques to polish it off using Photoshop. You'll walk away with a new nugget of knowledge and a beautifully rendered car.
A New Search Feature in the Plus Library
Finding it difficult to locate the perfect material for your project? Worry no more! We've added this handy new Search feature to the Plus Library. Instead of sifting through hundreds of materials, simply search the Library for your desired asset and keep on working. Quick. Easy. Convenient.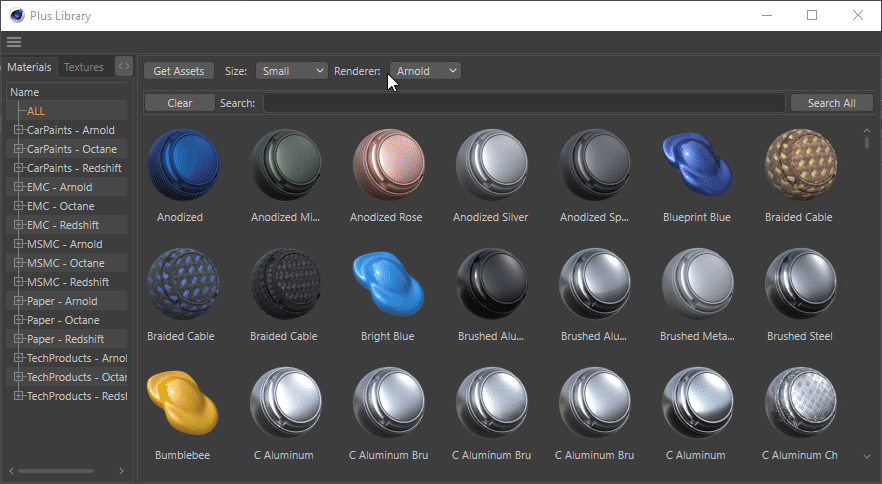 Greyscalegorilla Plus
Step up your 3D career.
Plus gives you what you need to create beautiful renders in less time. Learn how you can get over $6000 of Pro Training, Material Collections, and Plugins for only $49 per month or $399 per year.
What's the difference between Greyscalegorilla Plus and Greyscalegorilla for Teams?
We've broken it down for you in an easy-to-understand chart.
Posted by Michele Yamazaki