Auto Crop
Auto Crop
EDIT in Admin
Edit in WP
Downloads
Download demos and trial versions, product documentation, free presets and more.
You may download a free Demo after logging in.
Instantly crop compositions to fit their contents.
Auto Crop helps you automatically crop a composition to the size of its content, instantly.   Crop a composition at the current frame or analyze an entire composition's content and crop, without cutting off any animation. Auto Crop 3 now also allows you to crop the current comp without it needing to be a pre-comp.  Auto Crop has been rebuilt from the ground up as a native plug-in to provide new features and better results.
Auto Crop is Faster Than Ever
Auto Crop has been rebuilt from the ground up as a native plugin for After Effects. This means that you get faster speeds than before, even when cropping several layers at once.
Pixel Perfect Accuracy
Auto Crop produces pixel-perfect crops based on the alpha channel of every layer within a composition.  If even a single pixel is partially visible, Auto Crop will see it and include it in the crop dimensions.
Fully Automated
Even if you have a composition that is being used across multiple compositions, you can use Auto Crop without a problem. After cropping, every instance will be adjusted so that the new size doesn't affect any visuals.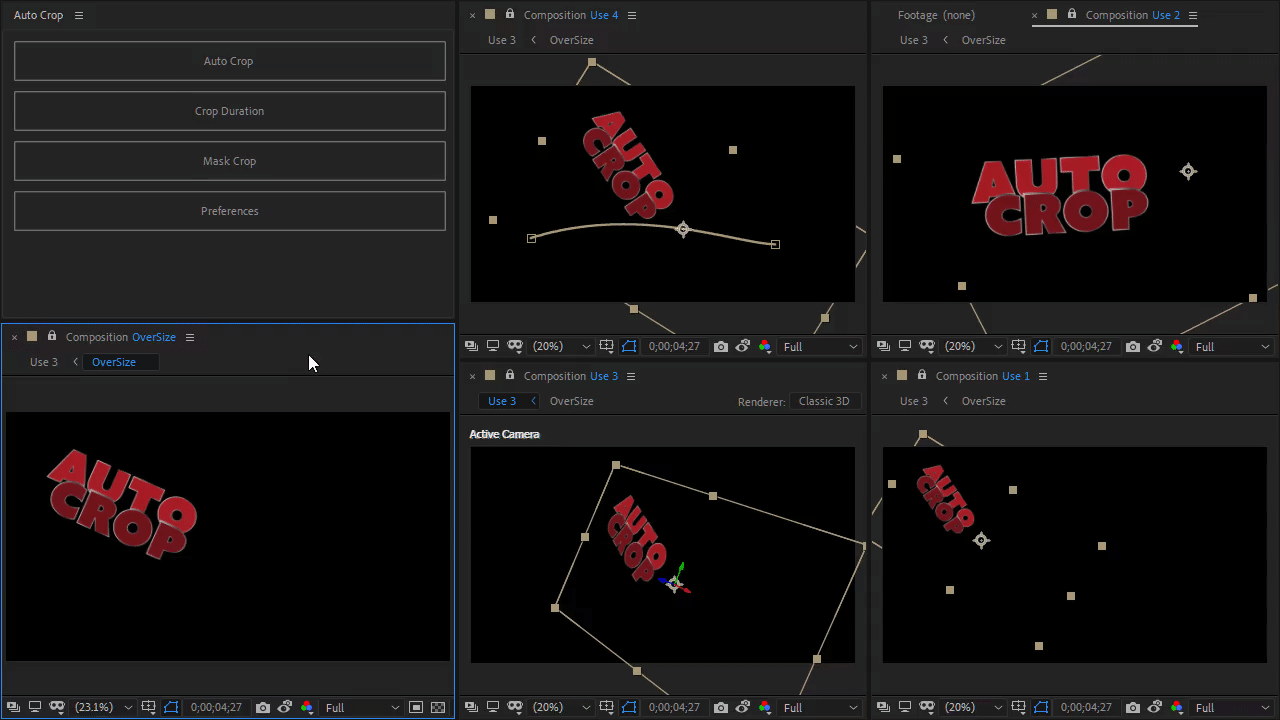 Crop with Confidence
Have animation within your composition?  Auto Crop can examine the entire duration to find the smallest possible size without cutting off any details.
Work Your Way
Auto Crop gives you many different options for customizing your experience. Save space on the UI by using the layer menu with keyboard shortcuts, keep Auto Crop on screen with the optional script UI panel and customize your crops with the new preferences screen.
Customize Your Workflow
Don't want to open the preferences each time you need to make a change?  You can also customize the Auto Crop panel to keep frequently accessed options on screen.
Expand and Crop
If you move layers outside of the composition bounds, you can now expand the composition and crop it at the same time!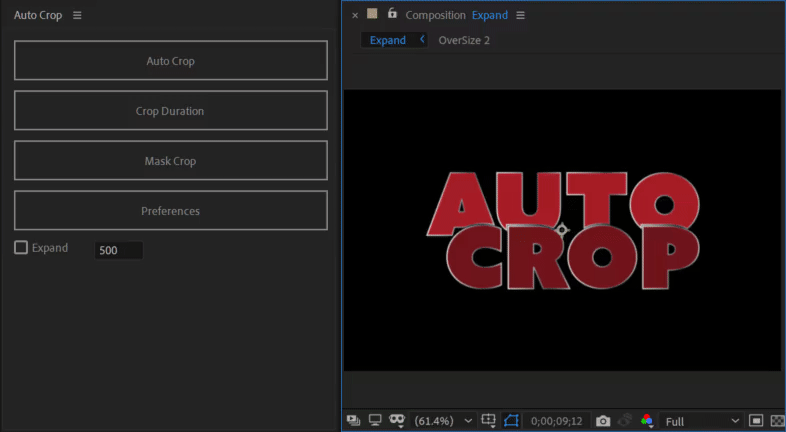 System Requirements
After Effects 2023, 2022, 2021, 2020, CC 2019, CC 2018, CC 2017, CC 2015.3, CC 2015, CC 2014, CC, CS6