Drag Zoom Pro for Adobe Premiere Pro
Drag Zoom Pro for Adobe Premiere Pro
Downloads
Download demos and trial versions, product documentation, free presets and more.
You may download a free Demo after logging in.
Easily zoom into your footage by intuitively drawing a box around the portion of the frame with Drag Zoom Pro. Also supports automatic keyframing.
This product is also available for After Effects
Create smooth transitions with natural motion blur to zoom into portions of the frame without the need to fiddle manually with "position" and "scale" numbers in the "transform" effect.
With this extension you can literally just click and drag to draw a rectangle around a part of the frame and that's it – keyframes and proper values will be set automatically. This is especially useful when working with screen recordings or interviews.
Super handy for editing stream highlights
The extension allows for a lot of customisability and includes tools to achieve a consistent look across projects. It also supports creating transitions with motion blur on footage with higher resolution than the timeline (which normally causes problems in Premiere Pro).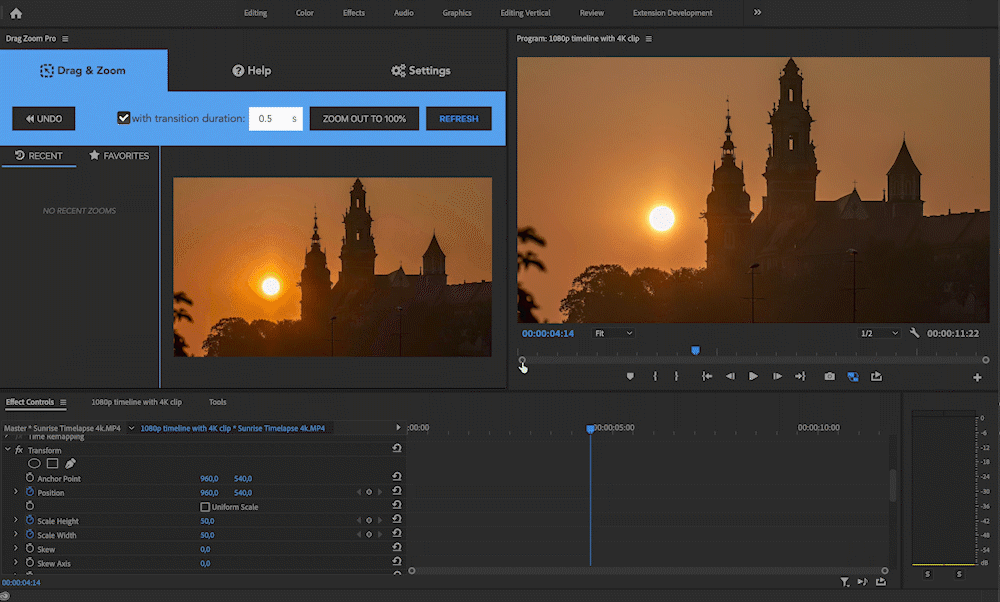 System Requirements
Premiere Pro 2022, 2021, 2020, CC 2019