GifGun
v1.7.x

GifGun
EDIT in Admin
Edit in WP
Downloads
Download demos and trial versions, product documentation, free presets and more.
You may download a free Demo after logging in.
One-click animated GIFs in After Effects.
GifGun is the easy way to make animated gifs in After Effects, with just one click.
After Effects and GIFs are finally reunited!
With easy 1-click workflow, Alpha channel support, Batch Render and GIF compression, GifGun is the go-to tool for making GIFs for Adobe After Effects.
With GifGun you can make GIFs for Dribbbble, Behance and more – right from within After Effects just in one click.
Loved by leading production studios, agencies and freelancers, it becomes better with each new update.
Here's what GifGun can do: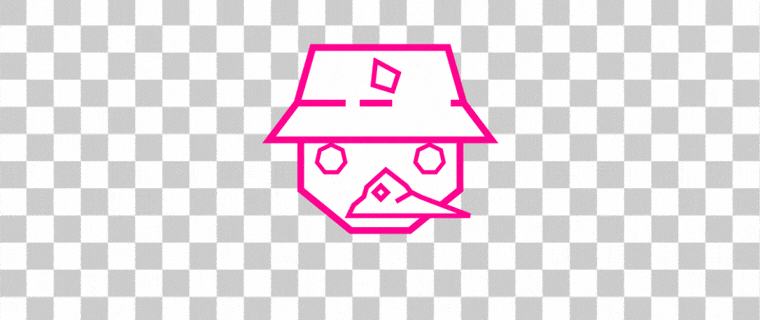 Rendering with Alpha channel
The only one-click way to get a GIF with Alpha channel.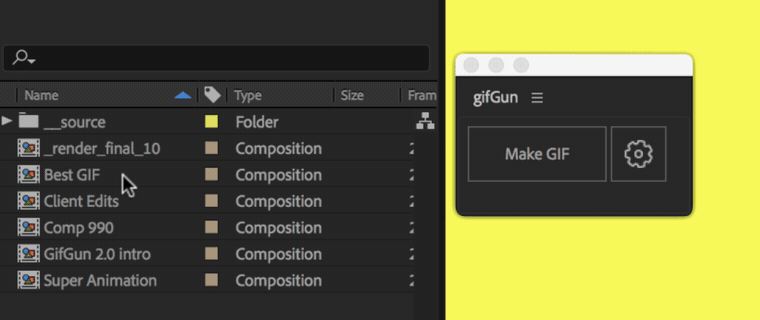 Batch Render
Select multiple compositions in Project panel and get all GIFs in one click.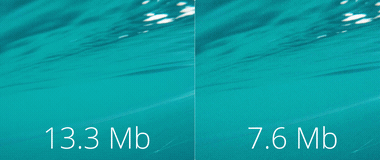 GIF compression
Get even beter file size with GIF compression. Saves 15% on average.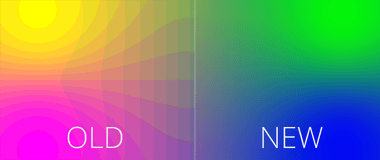 Super GIF quality
New for 1.7, Experimental Engine allows you to render gradients and complex scenes with very little detail loss. At the price of larger file size
Good to know
GIFs tend to get pretty large when you increase duration, resolution or color count (in any combination). We've added Compression feature to help you keep the size low,
GIF color palette is limited with 256 colors for the whole animation, so the more colors you have, the lower is the final result quality. That's why we introduced Experimental Render feature to help you get the best visual quality. It helps jam more than 256 colors in one GIF, at the cost of the larger file size.
We put a lot of effort to make this GifGun a true One-Click tool and hope you will love it as much as we do.
Description
What's new in v1.7?
Experimental Render – Get the best quality results for 3D renders, movie scenes and other complex scenes.
Updated UI – Сleaner and generally better.
Bug Fixes and Code Updates – We hunted small bugs and fixed infrequent issues. We also improved CS6 compatibility in case you use it.
System Requirements
After Effects 2023, 2022, 2021, 2020, CC 2019, CC 2018, CC 2017, CC 2015.3, CC 2015, CC 2014
Windows 8 / Windows 10
OSX 10.10 and newer are supported.
Change Log
1.7.20  (Current version)  –  Oct 28, 2021
-Minor updates
-AE2022 compatibility
1.7.19  –  Jul 22, 2021
-Updated for AE 18.4 compatibility
1.7.18  –  Mar 14, 2021
-Updated for CC2021 compatibility
1.7.17  –  May 18, 2020
-Fixed Issue with Keep Alpha and "as comp" FPS settings
1.7.16  –  Apr 23, 2020
-Fixed Issue 159 on After Effects 17.0.4 and newer
1.7.15 –  Jan 20, 2020
-Fixed batch render issues
1.7.14  –  Dec 16, 2019
-Fixed Experimental Engine issue with Infinite loop on Windows
1.7.13  –  Dec 3, 2019
-Fixed Windows installer for older Windows versions
-Fixed script loading issues
1.7.12  –  Nov 28, 2019
-Fixed engine error bug on macOS 10.13.6
1.7.11  –  Nov 15, 2019
-Fixes for trial mode and default FPS values
1.7.10  –  Nov 12, 2019
-Infinite loop issue fixed
1.7.9  –  Nov 6, 2019
-AE 2020 compatibility update
1.7.8  –  Nov 5, 2019
-MacOS Catalina compatibility update
-Minor code updates and fixes
1.7.7  –  Mar 24, 2019
-setDate bug fixed
-Improved compatibility with BGRenderer2
1.7.6  –  Feb 20, 2019
-You can now set the desired amount of loops
-Bug with default FPS fixed
-Minor code updates
1.7.5  –  Feb 12, 2019
-Pixelart mode added
-Minor code updates
1.7.3  –  Nov 8, 2018
– Installer updated for OSX 10.14 Mojave Dark Theme
1.7.2  –  Oct 18, 2018
– Updated for AE CC 2019
1.7.0  –  Aug 2, 2018
– Experimental Render Engine for higher quality results
– Updated UI
– Bug and compatibility fixes
1.6.4  –  Feb 28, 2018
– Licensing updated to support floating license server
– Better debugging and logging options for issue management
1.6.2  –  Oct 31, 2017
-CC2018 support
-(bugfix) It was not possible to render a non looping gif on some machines. Now it is.
1.6.1  –  Sep 5, 2017
-(bugfix) Resize now works with alpha channel
-(bugfix) Batch render works properly on Windows
-(bugfix) Templates behavior is fixed for Windows
1.6  –  Jul 19, 2017
-Render with Alpha channel added
1.5.4  –  Jun 22, 2017
-Pre-1.6 fixes to the engine
-Presets issues addressed
1.5.3  –  Apr 19, 2017
-"Save the project first" issue on CC2017 fixed
1.5.1  –  Mar 19, 2017
-"outputModules is undefined" issue on MacOS and CC2017 solved
1.5  –  Nov 28, 2016
-Batch render (select multiple compositions and click "Make Gif")
-Increased render speed with Progressive Render feature (CC2015.3 and up)
1.4.1  –  Nov 8, 2016
-Installer supports CC2017
1.4  –  Sep 16, 2016
-Compression is here: control your GIF size even more flexibly.
-Render preset selection: make your of GIF presets or use good old Lossless.
-Option to NOT open a GIF folder after render. Finally.
-Fix for 2015.3 crashes
-Windows installer: no more manual copy/paste routine.
1.3.2  –  Jul 1, 2016
-Fixed "Unable to execute script at line 1" issue on Windows
1.3.1  –  Jun 28, 2016
-Added support for AE CC2015.3 for Mac Installer
1.3  –  Feb 14, 2016
-You don't have to save the project now in order to make a GIF
-"0% stuck" issue for Mac users
-Various engine fixes and updates
1.2  –  Jan 25, 2016
– Native Japanese "lossless" support
– Added logging option
– Minor bug fixes
1.1  –  Dec 18, 2015
-Completely redesigned "Settings" window. Now even more clear.
-"Maximum colors" dropdown list.
-You may choose not to loop GIF.
-Minor bugs fixes and engine improvements.
1.0.5  –  Dec 18, 2015
Fixed Unicode paths issue. GifGun now works with any language.
1.0.4.2  –  Dec 16, 2015
Fixed issue with licensing on Windows
1.0.4.1  –  Dec 15, 2015
Hotfix for "function undefined" issue
1.0.4  –  Dec 14, 2015
Output module bug fixed
1.0.3  –  Dec 11, 2015
MacOS installer added
1.0  –  Dec 9, 2015
Releasev