Chaos Group V-Ray Next for SketchUp Rental Options
Chaos Group V-Ray Next for SketchUp Rental Options

v4.00.02
Downloads
Download demos and trial versions, product documentation, free presets and more.
You May Download a Free Demo After Logging In!
Introducing the Next Generation of Rendering
With significant workflow optimizations & faster rendering, V-Ray Next is smarter, faster and more powerful than ever. Now, with a few clicks, you can create high-quality ray-traced visuals using one of the world's most widely used design programs. Automatic scene analysis and adaptive lighting join dozens of new features, bringing more performance to the design process.
---
Highlights
Backed by over four years of R&D, V-Ray Next rapidly accelerates the SketchUp workflow, building massive speed and intelligence gains under the hood, so designers can produce faster, cleaner renders with little to no extra effort. This latest version is also immediately compatible with the new SketchUp 2019, as well as versions 2016-2018.
Key Features:
EASY TO USE Easy to learn, easy to use. V-Ray for SketchUp is designed to get you up and running in no time.
QUALITY V-Ray lets you create the highest quality renders possible – directly in SketchUp.
POWER V-Ray gives you the power to render anything and everything – from quick design models to your most detailed 3D scenes.
SPEED Render fast, design faster. V-Ray for SketchUp lets you spend more time being creative and less time waiting.
CREATIVE CONTROL Focus on design, with a full suite of creative tools for lighting, shading and rendering.
THE INDUSTRY STANDARD 92 of the top 100 architecture firms in the world render with V-Ray every day.
Rent Additional Render Nodes Here: Annual Monthly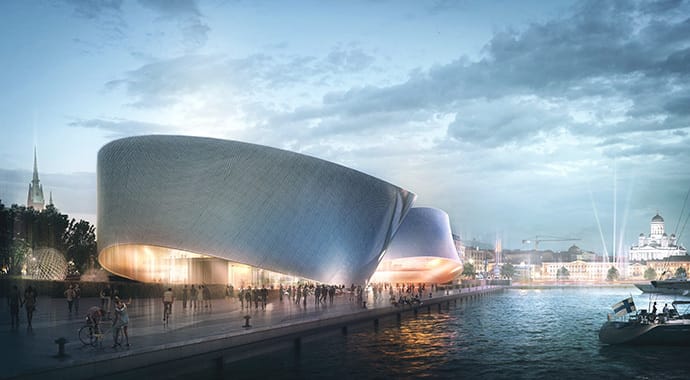 Rendering:
INTERACTIVE RENDERING
Render interactively while you design. Fine-tune lights and materials and see the results right away. View the render result directly in the SketchUp viewport.
CPU, GPU & HYBRID RENDERING
V-Ray includes two powerful renderers in one. With CPU or GPU acceleration, you can use the best engine for your project and hardware. Hybrid GPU+CPU rendering is available too.
V-RAY DENOISER
Automatically remove noise and cut render times by up to 50%. You can refine denoising after you render too.
V-RAY CLOUD
Rendering on the Cloud is just one click away.
V-RAY SWARM
Powerful and scalable distributed rendering system that's simple and fast. Get an extra speed boost with V-Ray Render nodes.
RENDER ELEMENTS
Choose from many unique beauty, utility and matte passes to give you more control over your rendered images in compositing.
New in Version 4.0
New V-Ray Scene Intelligence can now automatically analyze a 3D scene at the start of a render, optimizing some of the most common decisions you'll make.
The new Adaptive Dome Light (ADL) offers more accurate, image-based environment lighting that's up to 7x faster.
Finding the perfect camera exposure or white balance is no longer an issue. Once a scene loads, Auto White Balance and Exposure return the right settings, making the entire process point-and-shoot simple.
A new NVIDIA AI Denoiser has also been embedded, so you get automatic noise removal and clean updates as they work.
The GPU renderer is over 200 percent faster, accelerating nearly every V-Ray feature including fog and atmospheric effects.
A new Scene Interaction Tool now provides direct access to any level of the SketchUp hierarchy, so you can interactively adjust materials and light properties whenever an object is selected.
A new V-Ray Toolbar has also been included, providing new access to top tools and simplified UI controls that will make it easier to set up cameras, adjust render settings and manage scenes.
The new asset management system can help you find and track V-Ray assets, using a custom library that can be shared across SketchUp projects.
Additional Features Include:
New Lighting Analysis Tools - Now easier to visualize a scene's real-world illumination values in lux or footcandles.
New Metalness Material Properties - A new addition to the standard V-Ray Material offers improved compatibility with Substance Designer and PBR materials.
Color Correction Curves - Fine-tune texture colors right in SketchUp without heading back to an image editor.
Material ID & MultiMatte Render Elements - Render 2D masks of 3D objects for quick fixes in Photoshop and other image editors.
Improved V-Ray Scenes and Materials Exchange - Fluid asset transfers from other V-Ray applications (Rhino, Revit and 3ds Max).
Description
User Interface
SMART UI
V-Ray for SketchUp interface is clean and simple, with support for 4K monitors.
FILE MANAGER
Manage all of your scene files in one place. Set file paths, create scene archives, and keep track of assets like textures, IES files, and proxy objects.
COLOR PICKER
New color picker that's simple and powerful. Select color values in Screen sRGB (0-255) or Rendering (0.0-1.0) color space.
FRAME BUFFER
Track render history and fine-tune color, exposure, and more, directly in V-Ray's frame buffer.

Lighting
ACCURATE LIGHTS
Render any type of natural or artificial lighting with a wide range of built-in light types.
ADAPTIVE LIGHTS
For scenes with lots of lights, the new Adaptive Lights mode can help you speed up render times by up to 7x.
SUN & SKY
Simulate realistic daylight for any time and any location. SketchUp sun animation is supported.
GLOBAL ILLUMINATION
Render photorealistic rooms and interiors with powerful and fast global illumination.
MESH LIGHT
Emit light from any scene object to simulate real world custom light shapes.
Camera
REAL-WORLD CAMERA
Work like a photographer, with controls for exposure, white balance, depth of field and more.
VIRTUAL REALITY
Render VR-ready content for popular virtual reality headsets with the help of the VR Camera types in Stereo mode.
INTERACTIVE LENS EFFECT
Instantly add GPU-accelerated glare and bloom for added photorealism. Fine-tune lens effects interactively while you render.
Shading
MATERIALS
Create great looking materials or select from 500+ readily available ones in the asset library.
MATERIAL VIEWPORT DISPLAY
Get an accurate preview of your V-Ray materials in the SketchUp viewport.
TEXTURE MAPS
Create realistic and unique shaders using any texture map or one of V-Ray's many built-in procedural textures - Gradient, Temperature, Tri-Planar, etc.
VRSCANS
650+ scanned materials. Import and render directly in V-Ray.
Atmospheric and Volumetric Effects
ENVIRONMENT FOG
Quickly add realistic atmospheric depth and haze and use true 3D fog with realistic light scattering.
AERIAL PERSPECTIVE
Simulate natural looking skies with realistic atmospheric depth.
VOLUMETRIC MATERIALS
Realistic material light scattering and translucency.
Geometry Management
PROXY SCENES
Import and render V-Ray scenes (.vrscene) as references from other applications such as 3ds Max, Rhino, and Revit.
PROXY OBJECTS
Bring more detail to your project with memory-efficient proxy models of complex objects like grass, trees, cars and more or use animated proxy objects for walking people or trees blowing in the wind.
DISPLACEMENT
Quickly add surface detail without extra modeling with the optimized V-Ray displacement. The 2d Displacement mode is perfect for architectural materials like brick and stone.
GRASS
Create realistic grass, fabrics, and carpet with V-Ray Fur.
SECTION CUTS & CLIPPER
Easily create quick cutaways and section renders with V-Ray Clipper. Convert any scene object to a clipper.
System Requirements
Note: for rush delivery please contact sales@toolfarm.com.
Supported platforms: SketchUp® 2016, 2017, 2018, 2019.
Please make sure that your system fulfills these requirements before installing V-Ray.
WINDOWS
Processor - Intel Pentium IV or compatible processor with SSE3 support.
RAM - 4 GB RAM and 4 GB swap minimum - recommended 8 GB or more RAM, 8 GB or more swap file
TCP/IP - Only IPv4 is supported. IPv6 is currently not supported
Operating System - Windows 7, Windows 8.1, Windows 10. (64-bit versions only)
SketchUp - Version 2015, 2016 or later (64-bit versions only)
MACOSX
Processor - Intel Pentium IV or compatible processor with SSE3 support.
RAM - 4 GB RAM and 4 GB swap minimum - recommended 8 GB or more RAM, 8 GB or more swap file
TCP/IP - Only IPv4 is supported. IPv6 is currently not supported
Operating System - Apple Mac OS X 10.9.x or higher
Note
CUDA rendering is available only for Fermi-, Kepler-, Maxwell- and Pascal- based NVIDIA cards as well as CPUs.
Interactive GPU OpenCL rendering mode is currently not supported.
V-Ray Licensing Policy
Our new License Server introduces flexible licensing for all Chaos Group products, without the need for any physical devices to be plugged into the machine. The license can be activated or released in a floating license environment.
Gallery
Reviews & Comments
Please Note: This page is intended for product reviews. If you are having trouble with a product and require customer support, please
Contact Us
Customer Reviews
Sorry, no ratings have been submitted for this entry yet.
Change Log
Version 4.00.02
Installation & Licensing
The Chaos Group License Server is updated to version 5.2.2
The installer now properly sets and displays a primary remote server IP address and port number - 127.0.0.1:30304
Workflow Improvements
The entire asset management system is optimized and made more reliable. This affects asset creation, renaming, deletion, referencing, etc. The optimizations are most obvious in heavy scenes with a big number of assets and complex shading networks
Render element assets are no longer deleted when the category is active and the Purge function is used. Use the multi-selection functionality to quickly delete a batch of elements
The Z Depth render element 'Depth from Camera' parameter is removed
Other Changes & Bug Fixes
Saving and loading projects no longer reset the Color Space of all textures to the default sRGB option. Using the File Path Editor no longer changes the color space either
The asset preview render process can now be restarted if it stops responding. Make sure to stop and restart the interactive preview (using its toolbar stop/start button) in the unlikely event this happens
The fresnel opacity of newly created Reflection material layers is now correctly displayed in the asset preview swatch
Invalid material or texture references can now be successfully cleared from the slot's context menu
Creating a proxy from a big number of SketchUp components or component instances now shows accurate progress in the Export Proxy window
An issue with Water textures used in a bump slot is resolved. Negative texture values are now properly handled
All V-Ray taskbar processes are grouped and displayed under the SketchUp Windows taskbar icon. This applies to the Asset Editor and the V-Ray Frame Buffer window
VRscan materials are now correctly sized and properly affected by the SketchUp material scale. A helper texture is displayed in the viewport to ensure this. Texture Placement parameters are now listed for every VRscan in it's Asset Editor properties panel
The way VFB Color Corrections are saved within SketchUp projects is updated and made more reliable
A number of issues related to V-Ray 3 scenes loading and upgrading are resolved
A number of issues related to .vropt (render settings) files loading are resolved
The Purge Unused Assets function no longer causes issues on MacOS
Materials incorrectly saved with older V-Ray versions no longer cause issues when loaded in Next
A number of issues related to complex texture hierarchy manipulation and deletion are resolved
The Batch Cloud rendering functionality is temporarily disabled. Once a Chaos Cloud platform-side update is implemented, the feature will be re-enabled. Our main goal is to provide a system that warns users for possible issues with their batch cloud jobs(like missing external file assets, for example), letting them resolve the problem before the rendering starts
Images imported through the SketchUp native Import no longer produce problematic V-Ray materials. Scenes containing such images saved with previous V-Ray version no longer cause issues when rendered in Next
A number of issues with badly serialized V-Ray component data are resolved. A more detailed error message is displayed and a better log file is created, letting us easily identify any further problems
Deleting Fur, Clipper or Mesh Light widgets from a group is now reliably handled during Interactive Rendering
A number of issues preventing the V-Ray Asset Editor from being populated with assets on specific scene load are resolved
The V-Ray Scene Importer now reliably imports models using multi materials exported from 3ds Max. The material ID assignment in 3ds Max results in a single object group in SketchUp with different materials applied to the corresponding faces
The Scene Interaction Tool now works reliably with obstructed light widgets
Deleting multiple materials at once no longer produces Ruby errors and warnings
Using the Scene Interaction Tool before the previous action is completed no longer prints Ruby errors
Skatter Proxy geometry materials render correctly when using the 'Render only' mode. Regeneration no longer causes Ruby errors
A geometry instancing optimization is implemented for Skatter objects with the 'Render only' mode enabled. This ensures that rendering a big number of instances is done in the most memory-efficient way
The way the SketchUp default material is handled by V-Ray is improved preventing incorrect lighting in specific situations
Activating Material Override during Interactive rendering now reliably affects all scene materials that have their 'Can Be Overridden' option enabled
Changing the SketchUp material Opacity value automatically disables the synchronization with the V-Ray material refraction. This allows for custom opacity manipulations in the viewport without affecting the rendered result
V-Ray material refraction no longer resets in specific situations when the SketchUp scene is saved and reloaded
The Z Depth render element tooltips are fixed
All Smoke texture parameters are now properly named
Repathing files with a Windows path on MacOS no longer causes issues
The migration (gamma management) of render elements from scenes saved with V-Ray 3 is improved
Tutorials
VRscans for SketchUp Explained
Save 20% on Chaos Group VRScans, the world's most accurate material scans, now through January 5, 2017. And learn how to use the VRScans material library within V-Ray for Sketchup, with a handy tutorial.
More...