Lightmap HDR Light Studio - Standalone
Lightmap HDR Light Studio - Standalone

Carbon Drop 3
A better place to light your shots
Create the perfect HDRI environment in minutes with HDR Light Studio. Lighting shots is now fast, precise and easy. Simply click on the model to position lights on a live HDRI map.
---
Highlights
Carbon Drop 3 includes: Expanded Preset System, New Preset Content, Save your own Presets, New Octane Standalone Connection, and the Houdini Connection now supports Area Lights and Redshift renderer.

Images lit with HDR Light Studio
HDR Light Studio transforms your lighting workflow:
Studio Lighting
Lighting to match a back-plate image
Adding lights/adjustments to existing HDRI maps
Creative Benefits:
Fast

Craft lighting to a higher level
Explore more lighting treatments

User-Friendly

Puts the art back into lighting
Easy to use with real-time feedback

Accurate

Precisely position lighting and reflections on 3D models
Commercial Benefits:
Cost Effective

Increase productivity – light shots in minutes not hours
Image-based lighting can significantly reduce render times
Works with your existing hardware/software

Improve Quality

HDR lighting raises image quality to the next level
Key Features:
LightPaint – click on the 3D model in HDR Light Studio to position lights
Create and edit HDRI maps in real-time
Procedural lights, image-based lights, and procedural sky
Loads Alembic and Collada scenes
Includes a large library of HDRI light source captures
Ideal lighting solution for Physically Based Rendering
OpenColorIO Color Management
What is the workflow with HDR Light Studio standalone?
In your main 3D software, the model has materials applied, the camera view is set up, you are now ready to light…
Export the 3D scene as an Alembic or Collada file
Start HDR Light Studio standalone and load the 3D file
Load an existing HDRI map to edit, or start with a blank canvas
Add new lights in HDR Light Studio
Click/drag on the 3D model in HDR Light Studio to position lights
To finish, HDR Light Studio generates a high-resolution HDRI map
Use this HDRI map for image-based lighting in your 3D software
License Model
We offer two methods of purchasing HDR Light Studio, subscription and permanent.
Subscriptions are annual, and stop running unless renewed. Permanent licenses do not expire, but cannot be upgraded. To connect to a compatible 3D application, a Connection Plug-in must be purchased separately.
Subscription
You will receive a yearly license that gives you access to both the software and all updates made within your subscription period. When the subscription expires, so does access to the software, unless you choose to renew it for another year. Two license models are available – node-locked or floating.
Permanent
Some customers prefer to buy their software. For those customers, we offer permanent licenses of the software. A permanent license will not expire. It will license the current version of the software on the purchase date and any future releases up to 1 year after the purchase date. It will not license future versions of the software. Permanent licenses cannot be upgraded when a new release becomes available. If you wish to benefit from our program of continuous development, you'll need to buy a subscription.

Connections
HDR Light Studio Connections are available for:
Maya | 3ds Max | Cinema 4D | MODO | Houdini | LightWave 3D | VRED | DeltaGen | Maxwell Studio | Rhino | SOLIDWORKS Visualize | Octane Render
HDR Light Studio can be used standalone. For a more integrated experience, Connections allow you to work live with your 3D software.
Buying a plug-in connection improves workflow. The connection seamlessly pushes the model to HDR Light Studio and pulls the environment map back into Maya without having to import/export via the file system. Connections allow you to view each of your lighting changes both in HDR Light Studio's optimized renderer and in your 3D app's final renderer.
With HDR Light Studio 5, users only pay for the plug-in connections they need and if you're prepared to manually import your models and export your environment map, you can run HDR Light Studio 5 Standalone with no connections at all.
Description
Version Updates
What's new in Carbon Drop 3, released July, 2018.
Enhanced Presets System
In Carbon Drop 3, Presets have undergone a massive overhaul, expanding to include more lighting ingredient types than ever before. We have made lighting shots faster by developing a 'Save your own Presets' feature, which means your favorite lighting settings can be stored, dragged and dropped in an instant, allowing for even more creativity and exploration in your lighting.
New Preset Types Explained:
Rigs
Rigs are entire lighting designs containing multiple lights. They provide all the benefits of off the shelf static HDRI maps, but without the limitations. Everything is editable in HDR Light Studio, the rig is a starting point and the lighting can be properly crafted to suit your shot. HDR Light Studio ships with a collection of lighting rigs for you to explore. Rigs are a great way of seeing what is possible when using HDR Light Studio.
Content
The Drag and drop Content Presets change the visual appearance of an existing light without changing its master and transform properties. The ability to easily switch the appearance of a light allows you to explore different lighting set-ups with speed and simplicity. In HDR Light Studio, there are 6 types of Content, and therefore, 6 types of Content Presets to choose from including BoxGrads, Bulbs, Flats, Gradients, Images, and Skies.
Elements
Elements can be dragged and dropped onto your Content settings to update them in an instant. For example, if you drag and drop a Preset Value Ramp or Color Ramp onto a Gradient's properties you can see the results you want much faster rather than building the ramps one peg at a time, every time.
Saving Presets
A major new feature we have added is the save your own User Presets: Rigs, Lights, Content, and Elements. A time-saving feature that allows your favorite lighting settings to be readily available to drag and drop, and try out in an instant. The Rigs, for example, are not limited to storing entire lighting setups; if you happen to have a small collection of light sources that you use on most projects, you can store them in a rig and drag and drop the rig to add lights instantly to your current project.
You can now use Presets to organize the HDRI maps you have purchased into a library inside HDR Light Studio. This means they will always be on hand to try regardless of the 3D software you use HDR Light Studio with. We have also stored User Presets separately from the Lightmap supplied Presets, so you can save User Presets on a 'per client' or 'per project' basis.
More Preset Content
Carbon Drop 3 includes an array of additional preset content, including Backdrop Scoops and Coves, Light Tent, LightPaint Trails, Masks, Lit Tracing Paper, and many more.
New Octane Standalone Connection
We have received numerous requests to create a connection for Octane Standalone to use alongside HDR Light Studio. Users love the speed, flexibility, and stability of using Octane Standalone and we are pleased to include this new connection in Carbon Drop 3. The connection is very fast and supports both live HDRI map and Area Light creation and control. Octane Render view is hosted within HDR Light Studio, allowing you to paint lights directly on the final render with fast intuitive feedback.
Updated Houdini Connection
The Houdini connection has been updated to support creation and control of area lights, and we have now included support for Redshift.
Updated 3ds Max Connection
The 3ds Max Connection now supports V-Ray Next.
We are really excited and proud of Carbon Drop 3, and we cannot wait to hear your thoughts and see the incredible work that will be created now it is in your hands. Share your creations with us via Facebook, Instagram, Twitter or Behance for your chance to be featured.
How do I get Carbon Drop 3?
If you're an existing HDR Light Studio subscription or maintenance customer, the release is all yours. Simply log in to your account and download now.
If your subscription or maintenance has lapsed you can renew online now. Alternatively, you can take a fully functional 15-day trial or buy here at Toolfarm.
Customer licenses will run any build of HDR Light Studio up to and including the version date as shown in the License Management dialogue. All subscription customers can run the latest releases. Customers with permanent licenses get 1 year of updates from the date of purchase, then need to renew their maintenance to update the version dates in their license files.
What's new in Carbon Drop 2:
Photographic Exposure Stops
New buttons have been added to the brightness slider. They provide a more photographic approach to adjusting the light brightness. They work by adjusting the brightness relative to its current value. So you can double, halve, increase by 1/3 or decrease by 1/3. This is a really useful addition when an art director wants a light brightening by 1 stop for example. (Double the brightness).
Light Property: Value Blend
Value Blend has been added to the Light Properties panel. It allows blending of the luminosity values from a secondary piece of content with the primary light content. It provides a way to tweak the visual character of a light source. For example, adding a hot spot into an existing softbox, or graduating the light brightness across your light. It can also be used to clamp the brightness within an image, for example clamping the brightness of the sun in an HDRI map.
Content types for Value Blend are: Image, Gradient, Flat and the new Box Gradient
Blend Modes for Value Blend are: Add, Multiply, Over, Low Pass and Amplify
New Content Type: Box Gradient
Box Gradient is a really useful new content type in HDR Light Studio. It blends a vertical and horizontal ramp. It's perfect for softening edges or creating a light with a really interesting character that will enhance your reflections. It is perfect to use on Alpha Multiply or the new Value Blend.
All Lights are now Uber Lights
When we released HDR Light Studio version 5, we made it easy to use, so the toolbar created simple lights with fewer settings. But many users don't take advantage of converting them to Uber Lights that provide far more flexibility and creative options. So in this release, all lights are now created as Uber Lights, which include the Alpha Multiply and Value Blend settings.
Region Zoom on the Render View
A tool has been added to the toolbar on the Render View (HDR Light Studio) for region zoom. This was available previously only as a keyboard shortcut. Region zoom is great for positioning lights accurately on small details within the shot.
Light List Buttons Behaviour
Using the buttons on a light in the Light List (on/off, solo, etc) no longer selects the light. It was common for a user to turn off a light and not expect it to be selected, and move a newly hidden light by accident for example. The new behavior avoids this problem.
Color Coded Light Properties
With the addition of the new Value Blend on the Light Properties panel, it was easy to confuse which properties you were editing. We have color coded each light property section making it easier to navigate the properties panel.
Production Render Speed Improvements
Big performance increase with production renders containing lights using gradient ramps (which is many light types), especially large lights. Additionally, lighting designs containing many small lights will see significant render speeds too, with smarter use of render threads.
LUT Control for Preset Panel
The Presets panel now has a LUT drop down to view the presets with correct color space.
Presets Panel also provides links to download Preset lights and Installation instructions if presets are missing.
Other changes
New Maya Connection Interface – Shelf Buttons replace the Panel
3ds Max 2019 Connection release
MODO 12 Connection release
DeltaGen 2018x and DeltaGen Stage 2018x Connection release
What's New in Carbon:
This new major release of HDR Light Studio is called Carbon – the element used in the filament of the first commercially available light bulbs. Version numbers have now been replaced with nicknames.
New Render View
Pressing the Play button on the new Render View will start an interactive rendering session in the connected 3D software and display the image in the HDR Light Studio interface. Use LightPaint to click on the render to position lights and see the external render update instantly inside HDR Light Studio. Drag and drop Preset lights too.
The benefits:
Ideal for users with a single display – everything needed to create perfect lighting is now available inside HDR Light Studio's interface. No need to juggle two interfaces.
For many lighting tasks, HDR Light Studio's own renderer is no longer needed and can be closed. Freeing resources for your main 3D renderer during your lighting session.
Working directly on the final render enables better lighting decisions – seeing the light interact directly with the final shaders inside HDR Light Studio.
This new Render View is compatible at launch with the following 3D software and renderers:
3ds Max – V-Ray, Corona, Arnold, Redshift
Maya – V-Ray, Arnold, Octane, Redshift, RenderMan
We look forward to adding this feature to additional connections in the future.
Faster Area Lights
Area Lights performance has been significantly improved in HDR Light Studio's own 3D renderer. Area Lights are now created, adjusted and soloed instantly – even when loading huge 3D scenes. This inbuilt renderer is the perfect pre-vis lighting tool when IPR updates are too slow in the connected 3D renderer.
3ds Max and Maya Connection Workflow Improvements
HDR Light Studio is now even easier to use with 3ds Max and Maya. The plug-in now creates the lighting setup for you – simply press Start and begin image based lighting. Bringing the 3D scene into HDR Light Studio is also a click away – press Play and the scene will be automatically imported.
Cinema 4D Connection Improvements
Redshift and VRAYforC4D 3 now fully supported
Press play in HDR Light Studio to import the Cinema 4D scene
Additional Improvements:
HiDPI display support
LightWave 2018 Connection support
Change the diffuse color in the Render View (HDR Light Studio)
Major speed boost to production renders containing Procedural Sky
Easier client setup with floating licenses
Now includes a selection of demo scenes
HDR Light Studio interface layout is stored on a 'per connection' basis. Ensuring a preferred interface layout is loaded when using HDR Light Studio with different 3D software.
---
Features:
Procedural Lights
HDR Light Studio is best known for creating studio style lighting – especially suited to reflective materials which are difficult to light. Procedural lights can be precisely controlled and positioned to create a wide variety of lighting effects – be it a perfect softbox or a soft reflected lighting effect. Alpha controls allow a gradient or image to provide additional transparency control over the lights appearance. HDR Light Studio is simply unrivalled when it comes to studio lighting creation.
Image Based Lighting
For the most realistic lighting effects – load HDR images as light sources in HDR Light Studio. Using image based light sources brings higher levels of realism with subtle details and imperfections seen in reflections. A totally photographic approach.
Matching Photography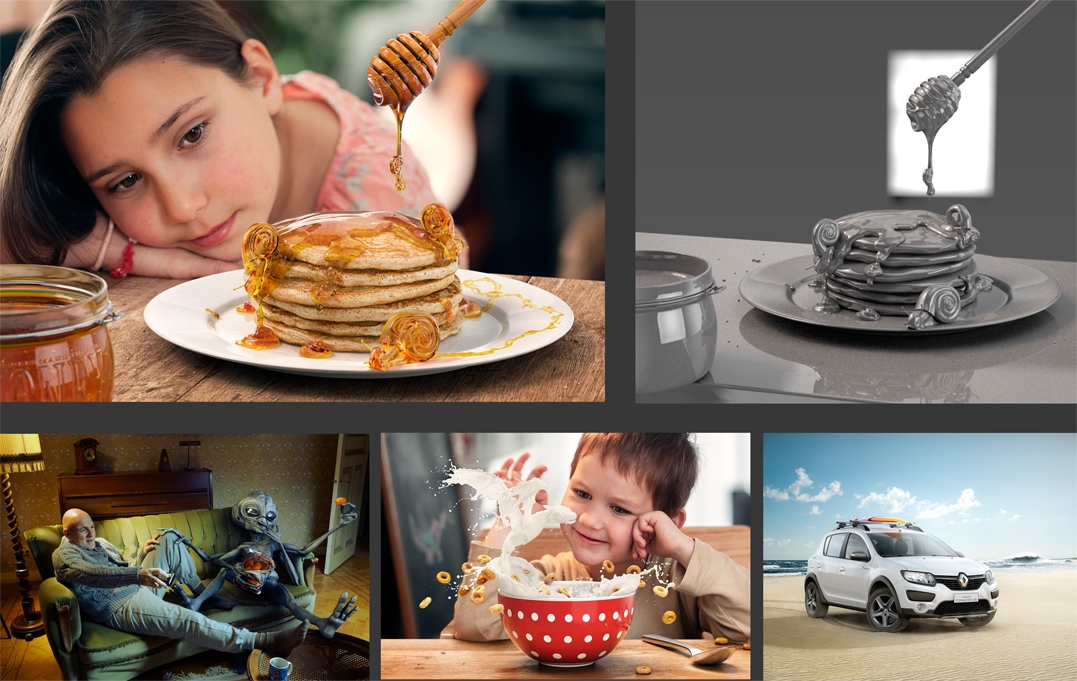 When blending photography and CG imagery, matching the lighting between the photographic content and the CG elements is key to a successful and believable image. If a HDRI map of the location has not been captured then a lighting setup needs building from scratch. HDR Light Studio makes this process easy – enabling the rapid creation of a suitable lighting environment.
Enhancing Reality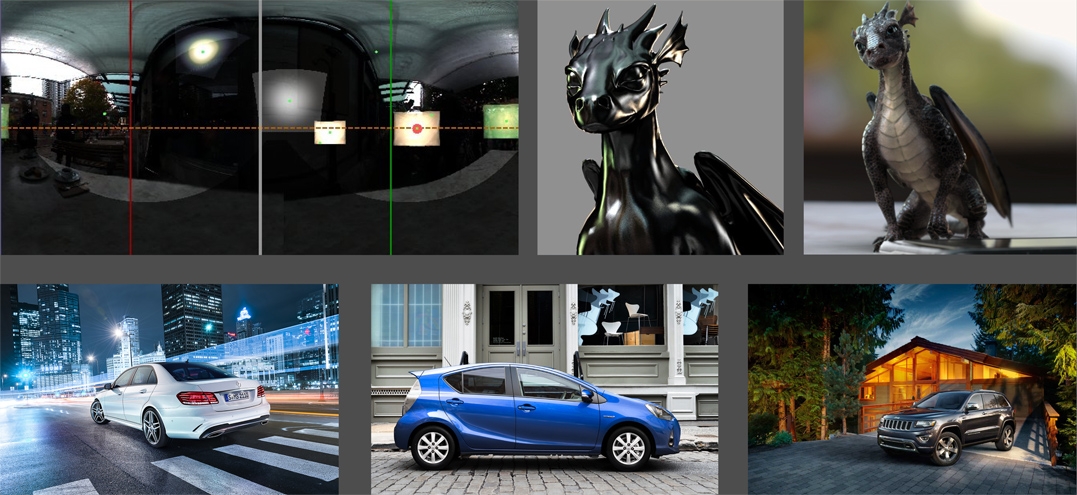 When reality isn't enough. Load HDRI maps shot on location and add additional light sources to bring your subject to life. Just like on a real photoshoot, beauty lights are added to make your subject the star of the show. Be it a highlight in the eye of a creature or a studio light reflecting in a car body.
Area Lights
NEW - Lights can now be liberated from the HDRI map and promoted into full 3D Area Lights (Light Cards / Emitters)

Area Lights are controlled with the same intuitive 'click to light' interface with the addition of a distance control. It's so easy.
The Area Light feature is currently compatible with 3ds Max, Maya, Cinema 4D and MODO Connections. Area lights are built in real-time in your 3D software, for your chosen 3D renderer, as you work in HDR Light Studio. This includes creating the light geometry, appropriate shaders and mapping the RGBA image content onto the light. This saves lots of time in tedious setup. Lights are moved and scaled in your 3D software as you work in HDR Light Studio.
Presets - A Library of HDRI Light Sources
HDR Light Studio includes a library of over 200 high quality HDR photographs of soft boxes, spot lights, windows and even clouds. We call these Presets. View a PDF Brochure of all Preset Lights included with HDR Light Studio

Over 50 studio lights

Softboxes and umbrellas

Miscellaneous lighting
HDR Light Studio ships with many high dynamic range images of real lights - softboxes, reflectors, flourescent strip lights,
incandescent bulbs and more.
Lighting Preview and Placement
The Render View is a key feature of HDR Light Studio's lighting interface. 3D models are loaded and a basic lighting preview of the shot is progressively rendered in the view as you work. The CPU based renderer is optimized for fast and responsive updates - even on large models. The active light is positioned by clicking and dragging on the Render - we call this patented process LightPaint.
LightPaint means you can instantly put the lighting effect precisely where you want within the shot. You also have the luxury to freely experiment by dragging lights around on the model until you find the sweet spots.
HDR Light Studio loads Alembic, FBX*, Collada, OBJ and MI file formats.
*Windows OS only
Mix Up Your Maps

Load more than one HDRI map into HDR Light Studio and use the alpha ramp to blend between them. Use saturation adjustments and color filtering, via blend modes, to take control of color and create a better match. Enabling you to get more out of your existing HDRI collection.
More than Lights
The HDR Canvas is a powerful compositor for HDRI content and supports a range of mappings and blend modes.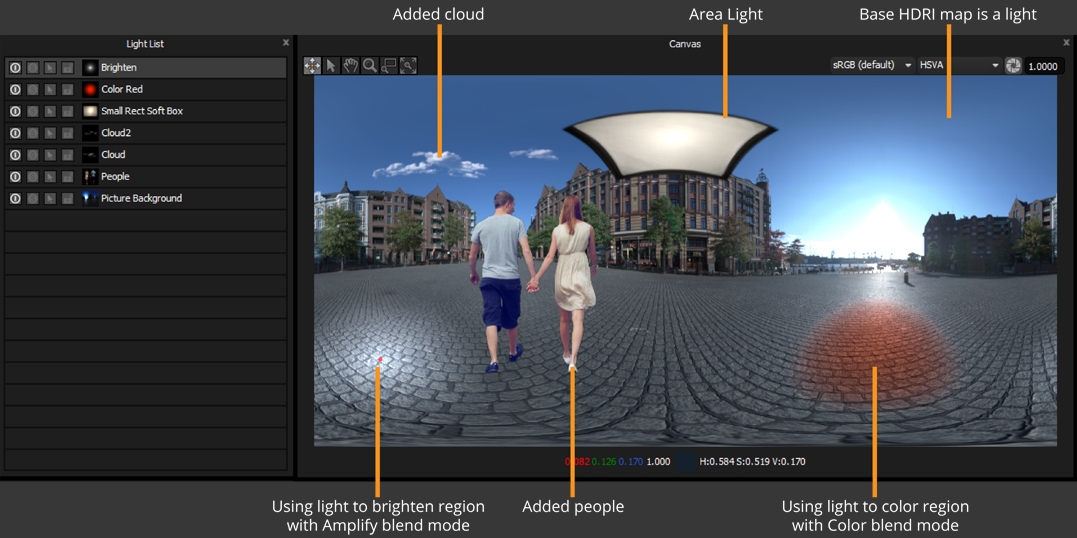 Lights are not limited to representing light sources. A light can be a loaded HDRI map background or an additional cloud added to the sky. You can load any image LDR or HDR imagery and add it to your HDRI map. The procedural light sources are very useful when combined with blend modes. Allowing precise local adjustments of color and brightness on the HDRI map – shaping the lighting effect.
Procedural Sky

HDR Light Studio includes a procedural sky shader. Replace the sky on an existing HDRI map and use an alpha ramp to control the horizon position and softness. Drag and drop the included Cloud preset images onto the sky for added realism. The sun disc can be increased in size whilst maintaining its overall lighting contribution, allowing for creative decisions about the sun scale. The sun disc has a controllable soft edge.
Industry Standards
More technical artists will be pleased to know HDR Light Studio has progressed to embrace some VFX industry standards.
HDR Light Studio uses OpenColorIO color management and supports loading Alembic scene files. In order to efficiently handle working with very large image files, HDR Light Studio will automatically convert image files to mip-mapped and tiled images, saving them as .tx files. When using .tx files, HDR Light Studio only loads the image resolution and area needed – this vastly improves image load times and performance.
Full Feature List
Professional lighting software for creating HDRI maps for image based lighting
Dedicated Lighting Interface - The HDR Light Studio interface is 100% focused on lighting your shot.
Add, move and edit lights on a lat-long rectangular canvas.
Lights displayed on the canvas are distorted automatically so that they appear undistorted when projected using a 3D spherical environment map. Three projection types are included for content placed on the canvas: Planar, 3D (Lat-Long), Spherical.
Procedural and image based lighting content - including procedural sky.
Load BMP, Cineon, HDR, IFF, JPG, OpenEXR, PNG, PSD, Targa, Tiff files as lighting content. For large image files, converting to a mip-mapped image format before loading significantly increases performance.
Over one hundred high resolution, high dynamic range images of spotlights, softboxes, umbrellas and other light sources are included with HDR Light Studio 5. These can be dragged from the presets panel and dropped onto the 3D model, canvas or light list.
Blend modes determine how the lights are composited. Add, Multiply, Over, Low Pass, Color, Saturation, Hue, Amplify are included.
Variable sized canvas can be zoomed and panned for precision lighting.
Our patented "LightPaint" technology enables you to position lights accurately on the environment map by clicking where you'd like the lighting effect on the 3D model. Rim mode allows quick positioning of light behind your model. This approach removes much of the trial and error of traditional lighting setups.
Lights are managed in a list and can be switched off, soloed, re-ordered and locked. The position in the list determines the order in which the lights are composited on the HDR canvas.
Toolbars provide quick access to all light types: Round Light, Rect Light, Hex Light, Gradient Light, Picture Light, Dark Light, Sun Shade, Gradient Background, Picture Background, Sky Background and the Uber Light. Uber Light is a flexible multi-purpose light with additional Alpha controls.
Frequently used light parameters (brightness, scale, rotation) can be adjusted using a dragable area of the interface.
3D models are rendered and displayed in the Render View window. An optimised renderer is used to provide an instant preview of your lighting design as you add, move, edit and delete lights, or change the surface characteristics of your model. There are options to render with a shadow catcher floor and display a solid color, flat image or the environment map in the background of your shot.
Supported 3D model formats: Collada, Mental Images, OBJ, Alembic (time support in seconds) and FBX (Windows only).
Flexible user interface with panels that can be docked, undocked, tabbed, resized and hidden. Includes a range of useful interface layouts.
Canvas pixel probe provides RGBA and HSV values.
Canvas exposure control.
Canvas channel controls to view HSVA, HSV, Red, Green, Blue, Alpha.
Unlimited Undo/Redo.
Optional plug-in connections are available to buy that link HDR Light Studio to your 3D software. These connections seamlessly push the model to HDR Light Studio and pull the environment map back into the 3D application without having to import/export via the filesystem. Connections also allow you to view each of your lighting changes both in HDR Light Studio's optimised renderer and in your 3D app's final renderer.
Supported connections include: 3ds Max, Maya, Cinema 4D, MODO, LightWave3D. (Coming soon to Houdini, Bunkspeed, VRED, Maxwell Studio, Rhino 3D)
Industry standard OpenColorIO color management.
Save lighting as HDR file or OpenEXR file (version 2) with Mip Mapping option.
HDR Light Studio is built for 64bit editions of Windows, Mac OS X and Linux.
Easily unlock the product using activation codes, built on industry standard RLM license keys.
Nodelocked and floating licenses available.
Permanent Licenses include 1 year of software updates/support.
Area Light Key Features:
A Natural Evolution – Area lights have been added with the same intuitive controls and ease of use as you would expect from HDR Light Studio. A single tick box promotes a light from the HDRI map into a 3D area light. Lights can be moved back and forth between the HDRI map and 3D space with ease.
LightPaint – Area Lights can be positioned 'in shot' by clicking on the 3D model in the Render View using one of the LightPaint modes: Reflection, Illumination, Rim.
Smart Dolly – Controls both the distance and size of the area light, using scaling algorithms specific to the LightPaint mode used to place the light. For example, if the area light is positioned using Illumination mode, Smart Dolly scales the light to maintain the illumination intensity whatever distance the light is from the model. This eliminates the constant back and forth between distance and scale settings, instead allowing the user to concentrate on the visual effect they want with using minimal controls.
Connections – When using HDR Light Studio via a Connection to your 3D software, the Area Lights are instantly built by the Connection with the correct shader network for the chosen Renderer. Area lights are always in sync with HDR Light Studio. Start a an IPR session to see a live preview of the lighting effect as you work in HDR Light Studio.
A Light Touch – HDR Light Studio controls only the essential core settings for an area light, i.e. The RGBA image data mapped to the light surface, light size and position, falloff method and visibility to camera. Additional area light settings can still be set within your 3D software, and are not altered by HDR Light Studio.
Portable Lighting – The lighting design is completely independent of the 3D software/renderer and can be moved between 3D software/renderers using HDR Light Studio.
---
Introduction to HDR Light Studio
Designed for the task
HDR Light Studio has been designed specifically for creating and enhancing high dynamic range lat-long environment maps for image based lighting and reflections for computer generated images. The interface is intuitive, easy to learn and powerful. Complex and precise lighting and reflections can be represented in a just single HDRI map.
Interactive HDR Canvas
The HDR Canvas is our unique and intuitive approach, to work directly on an interactive equirectangular HDRI map. As lighting nodes are positioned, they are instantly distorted to maintain their true shape when the canvas is mapped onto the lighting sphere. HDR Light Studio HDRI maps are seamless and pixel perfect, even when placing lighting on the edges of the canvas.
Resolution Independent
The HDR Canvas is a real-time low resolution version of the final production quality HDRI map. This live canvas data is used to light interactive renderers connected to HDR Light Studio Live. Lighting node properties can be adjusted at any time, updating the canvas instantly. Users can render a final high quality sub-sampled output file at any time and set the image resolution. HDR Light Studio creates HDRI maps in the industry standard HDR and EXR file formats.
Light List
The lighting nodes are seen and organized in the Light List. Lights at the top of the list are on the top of the lighting design. Lighting nodes affect everything underneath them in the list. List items can be dragged up and down the list to change their order, renamed, duplicated, deleted, shown or hidden. Solo a light to isolate its lighting contribution to the scene.
The Background
The foundation of a HDR Light Studio project
Custom Gradient Background
Separate luminosity and color ramps are used to generate a vertical gradient background that's the foundation for the HDRI lighting. Users can even match peg positions between ramps for the perfect alignment of color and luminosity. Custom gradient backgrounds can be used to create an ambient background light level, a studio backdrop or even sky simulation.
HDR/EXR Background
Load existing HDRI environments (.HDR or .EXR) and add additional lighting, effects and make local adjustments to exposure, color and saturation. All enhancements are created in real-time and in context on a rendered view. The resulting lighting rig and adjustments are non-destructive and editable at any time.
Transparent Background
Alternatively, users can render the lighting design as an RGBA EXR file with a transparent background. This is ideal for allowing further editing on specific light sources in an image editing or compositing application to apply special effects not possible in HDR Light Studio.
Synthetic Lighting
Perfect procedural lights and effects
At the heart of HDR Light Studio are the Synthetic Lights. This allows for the creation and placement of mathematically generated lighting effects, resulting in visually perfect lights. Simple, yet powerful properties control the look and feel of the lights to generate virtually any studio lighting effect you could want. Choose from Box, Round and Hex shape lights.
Custom Falloff
The Custom Falloff gradient controls the intensity of Synthetic Lights away from the bulb. This allows the precise control of graduations of light seen in reflections, enabling perfect highlight shapes and very creative lighting effects.
Blend Modes
Use the Blend Modes to locally adjust the exposure, color and saturation of underlying content using the Synthetic Lights. This is a powerful system for enhancing existing HDRI maps, customizing the lighting for your scene.
Example of adjusting an existing HDRI map with synthetic lights and blend modes
System Requirements
License Model
We offer two methods of purchasing HDR Light Studio, subscription and permanent.
Subscription
You will receive a yearly license that gives you access to both the software and all updates made within your subscription period. When the subscription expires, so does access to the software, unless you choose to renew it for another year. Two license models are available – nodelocked or floating.
Permanent
Some customers prefer to buy their software. For those customers we offer permanent licenses of the software. A permanent license will not expire. It will license the current version of the software on the purchase date and any future releases up to 90 days after the purchase date. It will not license future versions of the software. Permanent licenses cannot be upgraded when a new release becomes available. If you wish to benefit from our program of continuous development, you'll need to buy a subscription.
Requirements
Software delivery via internet download
Internet connection required for license activation
HDR Light Studio software requires approx. 200MB disc space
Preset light content requires approx. 6.2GB disc space
CPU based, no special graphics card required
Compatible with Windows, MacOS and Linux
System Requirements
HDR Light Studio is officially supported on:
Windows 7, 8, 8.1, 10
Mac OS X 10.7 or later
Linux Fedora 13 and above
HDR Light Studio can also be connected live to your 3D software: i.e Maya, 3ds Max, Cinema 4D, MODO, LightWave3D, Houdini, Maxwell Studio, Rhino, SOLIDWORKS Visualize, VRED, DeltaGen.
Gallery
Reviews & Comments
Please Note: This page is intended for product reviews. If you are having trouble with a product and require customer support, please
Contact Us
Customer Reviews
Sorry, no ratings have been submitted for this entry yet.